Mrs Oromoni, mother of late Sylvester Oromoni, broke down in tears in reaction to report that the state govt has cleared five students and five employees of Dowen College accused of complicity in her son's death.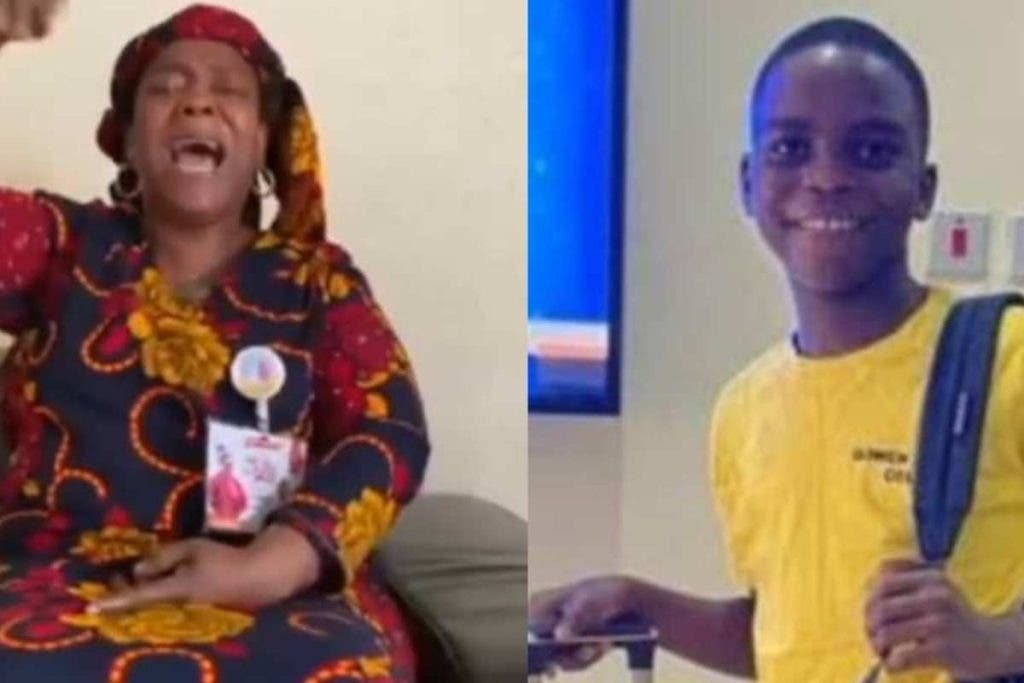 It can be recalled that the young lad was reported dead on Wednesday, Dec. 1 2021, by a Twitter user, @perrisonoromoni who claimed to be the deceased's cousin.
According to @perrisonoromoni, the deceased was bullied and beaten by fellow students which led to his death.
However, Dowen College, in a statement, denied all allegations, stating that Oromoni only complained of body pains from playing football.
The Lagos State Commissioner of Police, Hakeem Odumosu, would go on to give an update on the case revealing that two autopsies were carried out on Oromoni's body and both dismissed any allegation of murder.
The school is however still closed but the state has cleared the students, teachers, as well as the school of murder following the Legal Advice of the Director of Public Prosecution, DPP, Ms. Adetutu Oshinusi.
According to the legal advice addressed to the Deputy Commissioner of Police, State Criminal Investigation Department, SCID and the trial magistrate, Magistrate Olatunbosun Adeola, the interim and final autopsy reports issued by the Lagos State University Teaching Hospital and toxicology report of post mortem samples and that of the Central Hospital, Warri were in agreement as to the cause of death namely: Septicaemia, Lobar Pneumonia with Acute Pyelonephritis, Pyomyositis of the right ankle and Acute Bacteria Pneumonia due to severe Sepsis.
The legal advice added that the result of the toxicology is also not indicative of any toxic or poisonous substance in the body of the deceased as claimed by the family.
The DPP's legal advice, therefore, concluded that based on these findings, there is no prima facie case of murder, involuntary manslaughter and or malicious administering of poison with intent to harm against the five students, Favour Benjamin aged 16, Micheal Kashamu (15), Edward Begue (16), Ansel Temile (14) and Kenneth Inyang (15).
In a video released this afternoon, Mrs. Oromoni who could not hold back tears, prayed for God to fight for her and cut short the lives of all those who cut short the life of her son. An aggrieved Mrs. Oromoni went on to pray that God should cut short the lives of all those supporting her son's killers and make them feel the pain that she is feeling.
"This battle that is on ground is of the lord. Everlasting living God, the creator of heaven and earth, the beginning and the end, the first and the last, the owner of the whole planet, the God who created the whole universe will surely avenge the death of my son, Sylvester Oromoni jnr.

For this the whole world will know that there is God that fights for the oppressed. Jehovah God arise and let those that cut the life of my son short , cut their lives short. And those that are supporting them, oh lord, cut their lives short.

Let them feel the pain that I am passing through. Let them feel the pains that I am passing through. Let them breathe the air Oh God. Arise! God of vengeance arise. Everlasting God arise.

If they breath the air in, Baba God, may your wrath fall on them."
Watch the touching video below;